For many people, VPNs are sort of an afterthought. Unfortunately, people don't believe that they need a VPN and they instead live without one. Others believe that VPNs are essential and they go out of their way to install a VPN router. I have already tried out Private Internet Access and how that is an easy-to-use VPN, but a new challenger approaches called Surfshark.
Surfshark is a VPN service that was created in 2018 and they have an extremely similar interest to Private Internet Access. That is to let a consumer secure their data for little cost, without using a free service that makes money from selling your data. Is Surfshark any good? Let's find out.
The Client Interface
Surfshark is an easy-to-use VPN that is capable of being used on any platform that you would want to use it on. With its Mobile, Computer, and even Smart TV apps, you can secure your network traffic within a few clicks. Surfshark will work on any device that you want to use it with.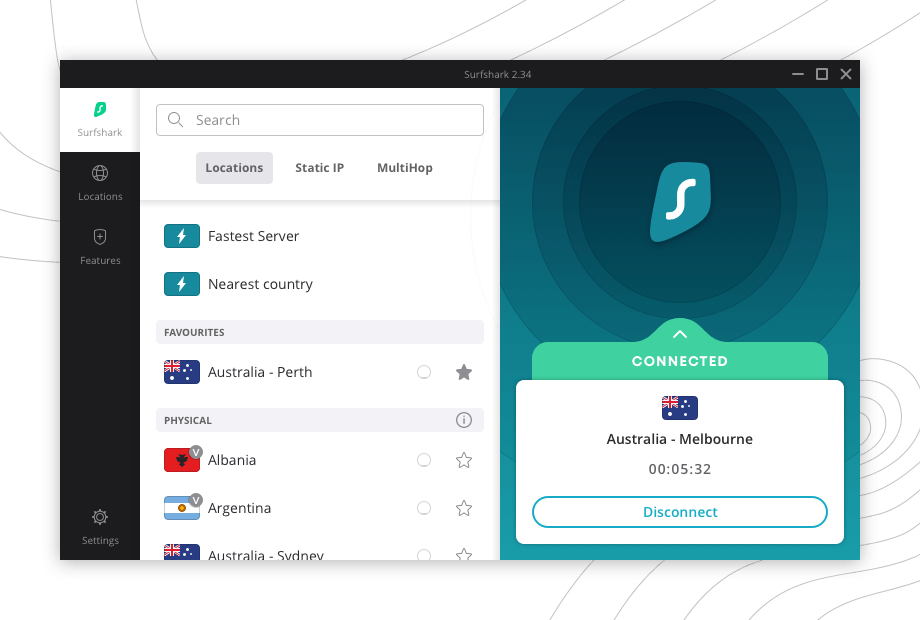 The client app for Windows, macOS, Android, and iOS lets you do many things with your Surfshark subscription. You can change the protocols to any of the included five that the app gives you by default, you can run speed tests on the servers, you can whitelist specific apps to bypass the VPN service and you can also whitelist specific URLs.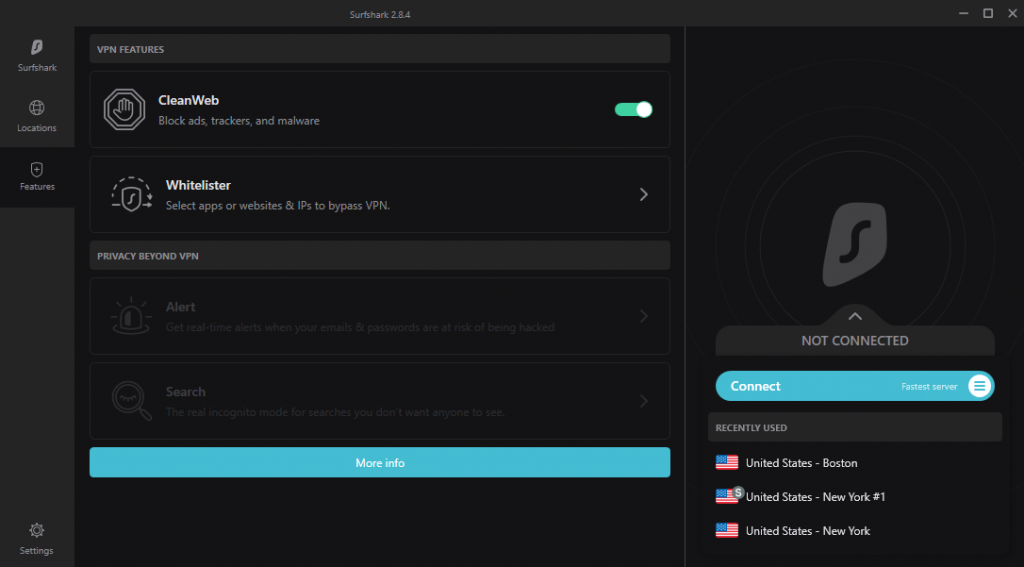 With the basic Surfshark VPN subscription, you can use the VPN itself and get access to Surfshark's DNS server that will secure your internet traffic. Along with this, Surfshark VPN also has a feature called "CleanWeb" which is an ad blocker built into the VPN client itself.
Surfshark is shockingly affordable!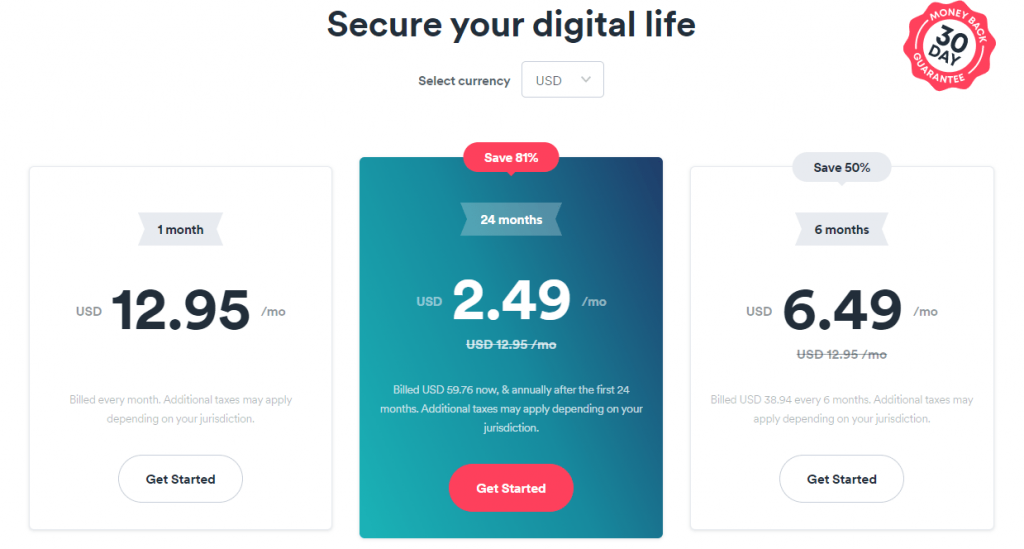 With all of these great features in mind, how much would something like this cost? The price per month starts at $2.49, but you can only achieve this price if you are willing to prepay for two years of service. This would mean around $60 every two years. For everything included in Surfshark, this is actually a really great price.
If you are not willing to pay for two years of service, you can pay either bi-annually, or monthly. If you pay every six months, the price would be about $6.49 a month, and for a payment each month, you're looking at a price of about $13 a month.
I recommend paying for the two-year subscription because even if you end up not being satisfied with your purchase, Surfshark offers a free 30-day moneyback guarantee, so you can get a full refund of your service if you are not satisfied with your purchase.
It's compatible with everything!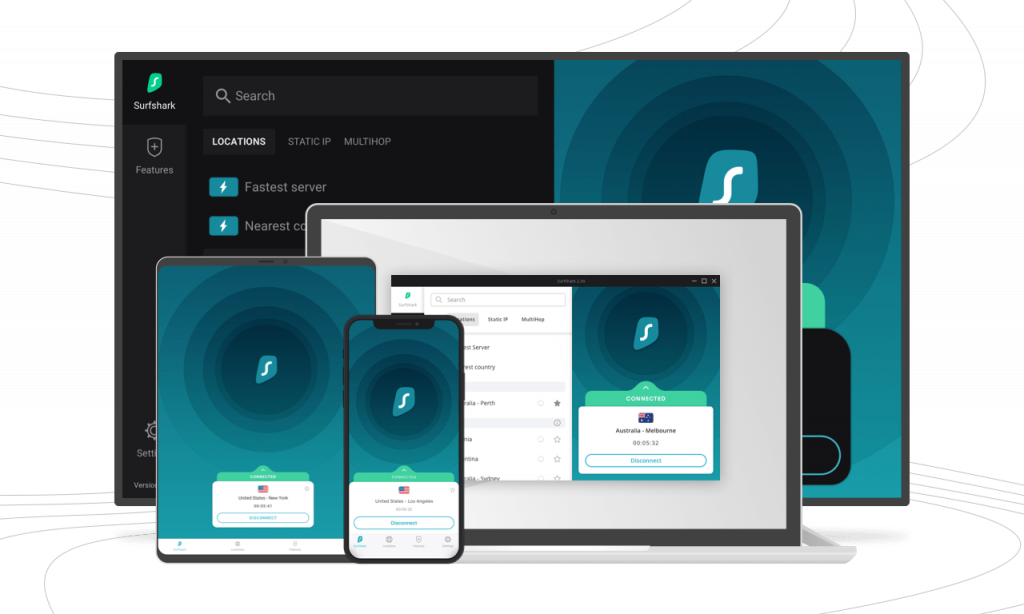 From phones to computers to TVs, Surfshark has an app for any device that you use. With its manual configuration options as well, with OpenVPN and IKEv2, you can use the service with any device that you want. If the device you want to use Surfshark with is not compatible with a VPN, then you should look into installing a VPN router. This will secure the traffic on ALL of the devices with your network.
Speeds of Surfshark Servers
While this will vary depending on your location and whatever server you connect to, Surfshark's VPN servers ran extremely well from where I typically use it in my house. Below, you can see a table of the speeds that the service was giving me while using the VPN and while not using the VPN.
I tried out ten of the 3200+ servers that Surfshark has, so let's take a look and see how Surfshark performs with a Windows 10 PC running over a Wifi connection to a Nest Wifi Router from Google and with an ISP speed of around 1.2 Gigabit down and 35 Megabit up. I live in Northern Massachusetts, so this is just a little background information for the speeds and ping timing.
| | | | |
| --- | --- | --- | --- |
| Location Name | Ping | Download Speed | Upload Speed |
| NO VPN | 54ms | 149.67Mbps | 22.45Mbps |
| US Boston | 39ms | 123.01Mbps | 13.14Mbps |
| US New York | 27ms | 118.96Mbps | 14.76Mbps |
| US Chicago | 59ms | 121.20Mbps | 13.13Mbps |
| US Seattle | 147ms | 123.62Mbps | 7.43Mbps |
| US Dallas | 99ms | 122.41Mbps | 10.18Mbps |
| CA Montreal | 42ms | 117.61Mbps | 17.66Mbps |
| UK London | 148ms | 111.25Mbps | 6.33Mbps |
| AU Sydney | 420ms | 104.49Mbps | 8.59Mbps |
| Switzerland | 195ms | 117.16Mbps | 4.48Mbps |
| DE Berlin | 191ms | 130.48Mbps | 8.10Mbps |
Surfshark Connection speed comparison
These speed results were interesting to me because I would think that the servers closer to me would perform better. But, it turns out that some servers that are farther away from my location seem to be performing faster than local servers. Very interesting. But, that said, Surfshark has a built-in server tester that will automatically test all of the servers near you and pick the one that it believes will perform the best in your networking scenario.
Conclusion
From all of my testing and my very pleasant experiences with Surfshark as a service make me believe that Surfshark is one of the best VPN providers that exists right now and in my testing, it is the Best VPN App that I have ever used! If you're looking to secure your data on the cheap, you can try out Surfshark today here.
If you want to learn more about VPN providers, you can check out the NTG Developer Forums and talk about the internet and security and other technology products. Learn more about Chay Chay Tech Time by following us on Twitter and Instagram at @CC_TechTime. Suggest articles for us to write with the contact form on the front page, or by leaving a comment down below.