There are a lot of trackers and other analytical tools online that are designed to see what you are interested in, and this data is used to show you ads that are based on your interests. People are by using an ad blocker, either through their web browser, VPN service, router, or DNS server. These are all effective ways of blocking trackers and advertising services, but what if you wanted to take it to another level, by using an ad blocker within your browser? Brave Browser has the ability to secure your internet experience by blocking ads and trackers, browser fingerprint and cookie blocking, automatic browser data clearing, and the ability to buy and trade cryptocurrency. With a new search engine from the creators of Brave now publicly available in beta, is this the browser for you? Let's take a deeper dive.
IMPORTANT: NTG Developer (CCTT's Parent Company) fully supports non-invasive advertising and tracking. Online, this is how creators make money since nothing in this world is free. There are features in this article that we personally prefer not to tolerate, but may prove useful to you. If you are interested in any of these tools, we would greatly appreciate whitelisting ChayChayTechTime.com in your Ad-blocking settings. If you do not wish to whitelist us in your ad blocker, please consider sending the head writer a tip through PayPal.
The Chrome-based Interface is Very Pleasing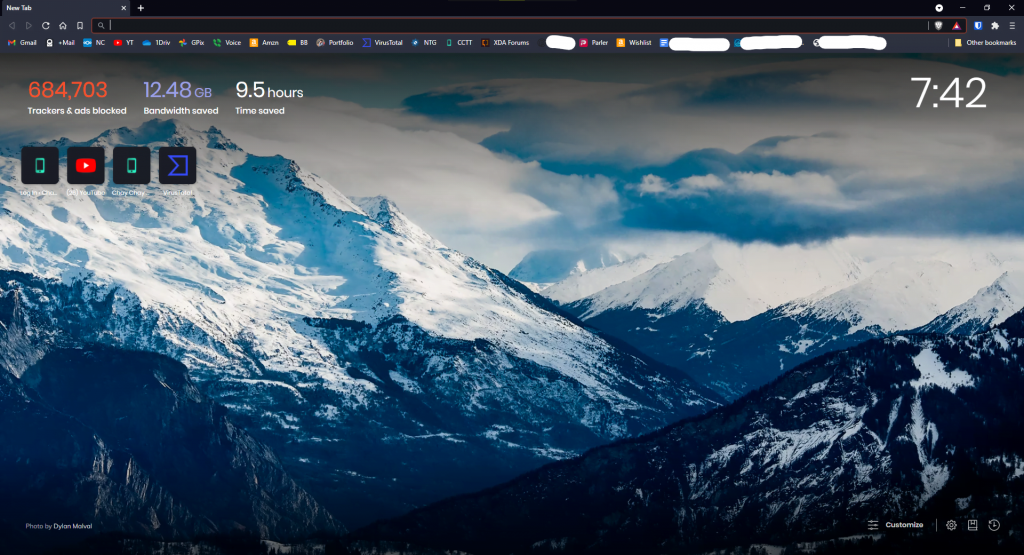 Based on the latest version of Chromium, Brave Browser is able to look nice while also delivering a ton of cool features. All of the Google components are stripped away from this browser, with the ability to turn on specific Google browser services if necessary. Being Chromium-based, the Chrome Web Store is fully compatible and theming with CWS themes are an option. There are a ton of features that are still on Brave that were not entirely tied to Google, such as the Safety Check Feature.
Brave's New Search Engine is Quite Informational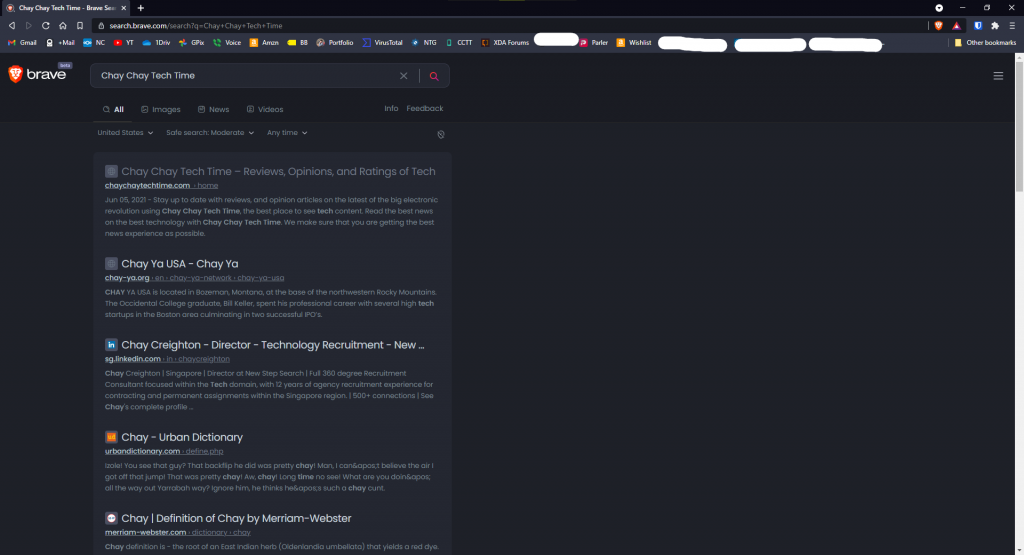 The New Brave Search engine, compatible on all browsers, is accurate and it also contains a very large index of webpages, making it a solid Google competitor. The Brave Search engine even has support for anonymous Google Fallback-mixing which is extremely useful if the term or question that you are trying to find information about is not available.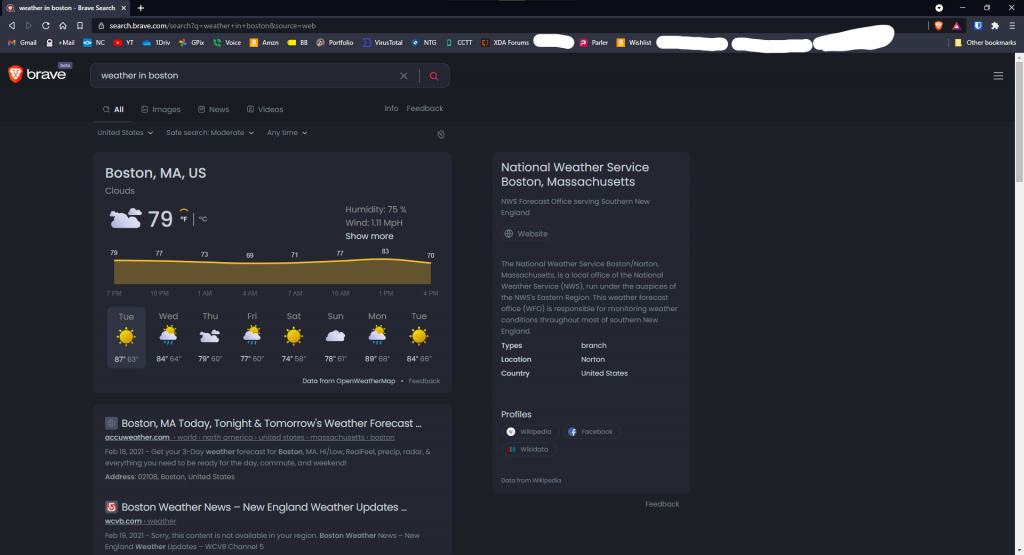 Some notable features from Google are the ability to type in a term or question and immediately get the answer to that question with a little card at the top of the webpage with the necessary information. This is a bit of a hit or miss with the search engine right now, but there is obviously time for improvement. Searching for the weather is easy to do, but tracking a package by typing in the number does not show a package tracker, unlike DuckDuckGo or Google Search. Again, just a little thing, but these are the features that I have gotten used to over the years and losing them really can be a pain. But, it IS in Beta, so I cannot complain a whole lot.
Brave Browser comes with NATIVE Web Shield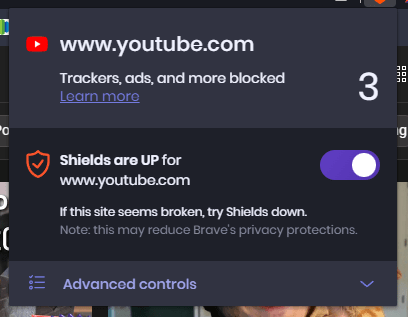 The browser's selling point is the fact that it comes with a shield tool built in. What this means is that if there are ads and invasive trackers on news sources and stores, Brave will prevent those from loading to make your browsing experience smoother and faster. As much as we love a faster web browser, we personally prefer to support smaller creators. We recommend turning off your ad blocker for the smaller websites that you trust because supporting smaller creators is a great thing to do.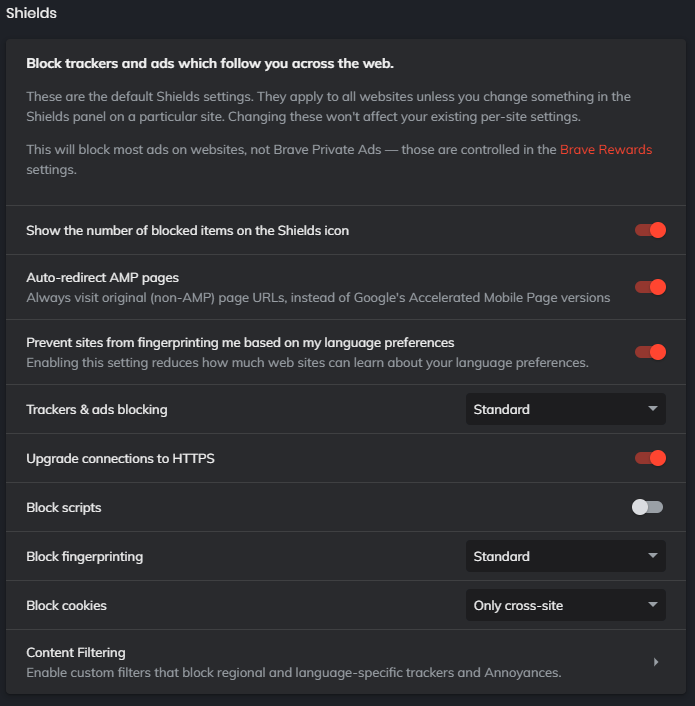 Because the browser comes with an ad blocker, it saves your system resources from needing a dedicated browser extension in order to block trackers. In addition to that, the Brave shield is much more user-friendly and in-depth when it comes to features. If you don't want to view AMP pages, then automatically redirect to the real pages. That's just one of the useful features that you can take advantage of with your browsing experience.
Should You Download Brave Browser?
Using a tracker-blocking browser can further propel your internet experience. Brave is compatible with Windows, macOS, Linux, iOS, and Android. You can run it on virtually anything. Running this browser over Google Chrome, Safari, Microsoft Edge, or even Firefox can lead to a much more enjoyable browsing task. It's private, it's easy, and it's FREE! That's always a win in my book. Download Brave today for free.
I reviewed the Ender 3 V2 in early March. It's a great 3D printer for a great price. To learn more about 3D Printing, you should check out my podcast, Chaney's Tech Talk. You can listen to it on Apple Music, Spotify, Google, Stitcher, and Alexa. If your phone battery starts to degrade, take a look at this Amcrest Power Bank that I reviewed. Secure your online data with Nextcloud and learn more about its features. Extend the life of your Moto G7 with Custom ROMs. Subscribe to our official newsletter for new technology updates and reviews from Chay Chay Tech Time.