Sure. I've read the lists and watched the videos. There are so many video editing apps, but not all are created equal. Some have a watermark, some are extremely difficult, and some are paid or trial software. In this article, here are five of my favorite free video editing software.
This is a piece of software that many haven't heard of. But, Clipchamp Create.
#2 – Kdenlive (BETA for Windows)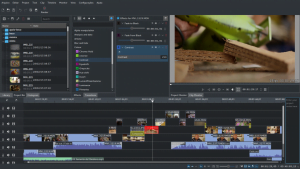 This video editor is probably my favorite editor out of all of them. It is very simple, and it is the best way to get started with professional video editing. This is great for learning PRO video development. It is simple to use and easy to get started. The only issue that I have with t is that it isn't stable on Windows yet. It is still BETA software. That is fine, because, within our testing, it still runs well. Without a watermark and a fully free version, it is great for editing video quickly.
At the time of writing, it is still in development, but DaVinci Resolve, in general, is completely free and this is what people use for documentaries and other professional films. This is our top choice because this has everything that you would need for free and this saves you a ton of money rather than a traditional video editor such as Final Cut Pro X or Adobe Premiere Pro. DaVinci Resolve has everything that you would need for video editing, Whether you are a beginner or professional, check out DaVinci Resolve today. That's it for today. Out of all the free video editing software that we've looked at, our top pick is DaVinci Resolve 16. Hopefully, you enjoyed this little thing and hopefully, this helped you. Comment below if you want more guides on the best choices for software and other software recommendations.