In 2020, you have probably heard of the most reputable password managers, such as Dashlane and LastPass. But, what are the free password managers that are actually worth trying out? Today, let's talk about three, extremely popular password manager choices. These would be Bitwarden, SafeInCloud, and Google's AutoFill Tool.
#3 – Google Chrome Autofill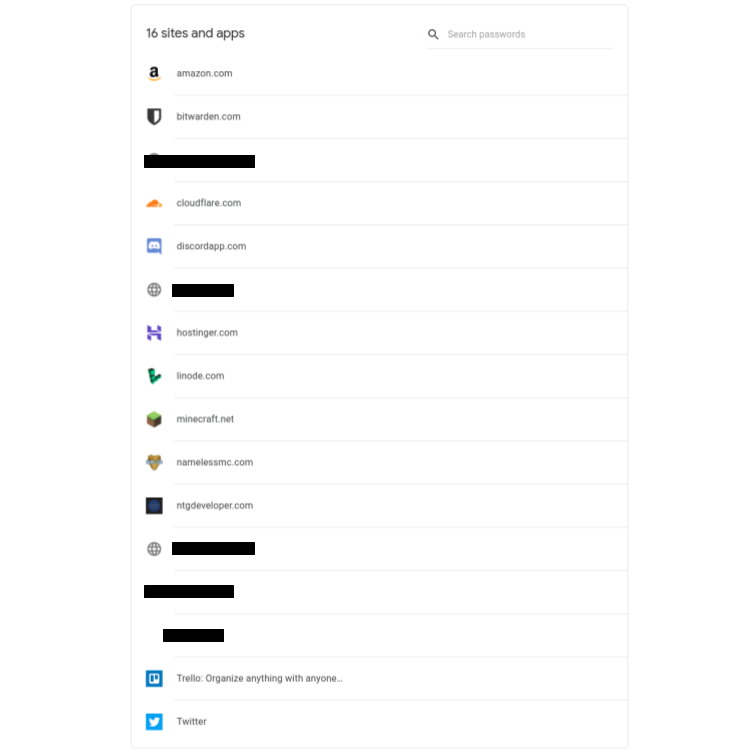 Google Chrome Autofill is the password that every computer-user actually has. If they use Google Chrome, they have this feature. This is a great start for keeping all of your passwords secure and safe from hackers. However, another reason why this is last, this does open up a door for hackers if they decide to hack your Google account. If they access this for whatever reason, they get access to your other passwords. This also stores all of your important passwords in the cloud, which personally, I am not a fan of.
#2 – SafeInCloud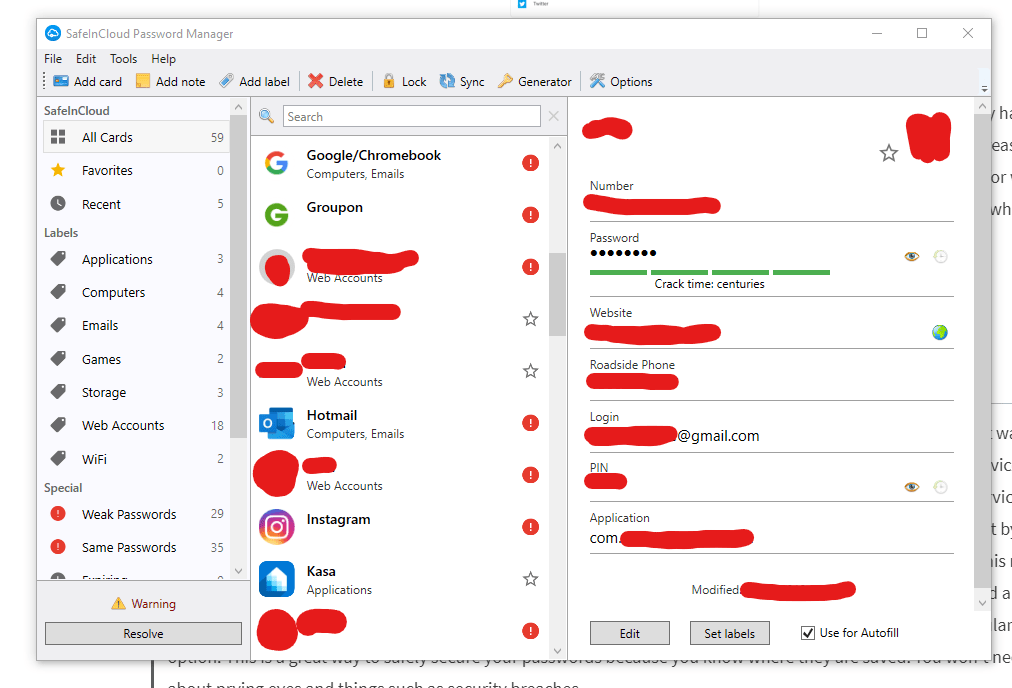 SafeInCloud is a great application for simple users. If you don't use Google Chrome, then SafeInCloud is a great way to keep your passwords safe across all of your devices. You can either use SafeInCloud locally or via a cloud storage service with an encrypted database. The reason why I really like SafeInCloud is that while you can save it to a cloud storage service, you can specify which cloud storage provider you would like. Things like Google Drive, OneDrive, and Dropbox work just by signing into the accounts and granting file access. But, what really makes the app shine is the WebDav functionality. This means that you can use a personal NAS and you can save your encrypted database on that. Not only can you use NextCloud and ownCloud, but you can also use Yandex.Disk, for some of our international readers, and 4shared, another popular cloud option. This is a great way to safely secure your passwords because you know where they are saved. You won't need to worry about prying eyes and things such as security breaches.
#1 – Bitwarden – One of the Best Free Password Managers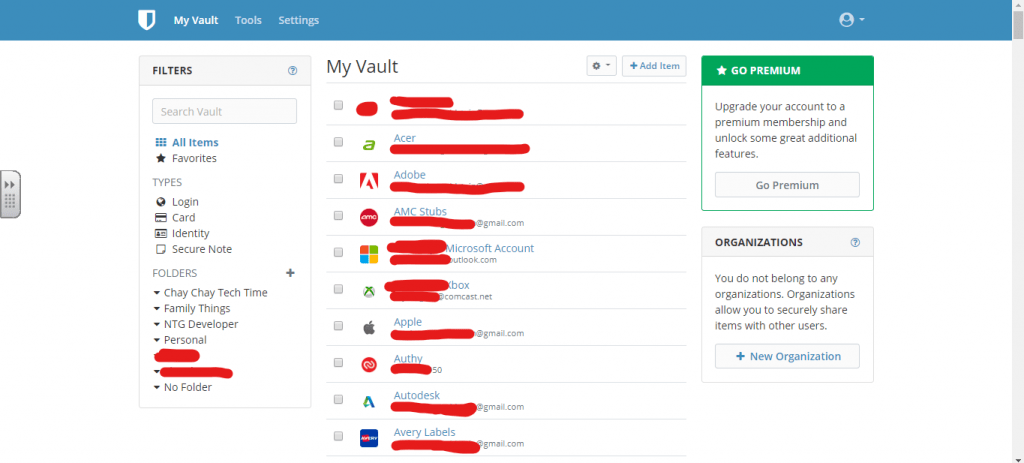 In my opinion, the best password manager that you can get for free, HAS to be Bitwarden. Bitwarden is open-source and super secure. You can get a lot of free features compared to the other free password managers. While it may be free, and hosted in the cloud, Bitwarden declares that they only collect the information that you give them and they only use it with your consent. Personally, while I do use Bitwarden on their own servers, you can self-host the application on your computer if you would desire. This is great for businesses that have many employees and want them to be using the same password manager and also don't want any companies with their data.

Bitwarden can be hosted using the "Docker" infrastructure via a Windows, macOS, or Linux machine running the latest versions of Docker and Docker Compose. You can read all of the information on how to host Bitwarden here. I use Bitwarden for all of my password needs and you should too.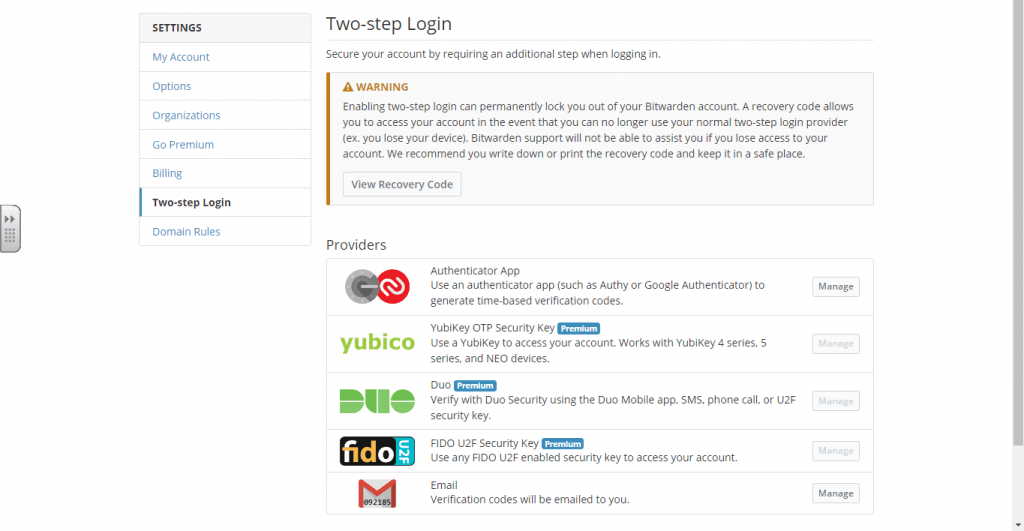 With its built-in TOTP generator, random-password maker, data-leak analyzer, 2-step verification support, and more, Bitwarden is probably the best option for many users looking for a simple password manager that works on Windows, macOS, Linux, iOS, Android, Firefox, Chrome, Tor Browser, Microsoft Edge, Safari, and any other platform that you could think of since there is a Bitwarden CLI tool that can be used for managing passwords on CLI-only devices.
Conclusion
I've gotta say, these free password managers are great and nice to have. But Bitwarden has to be the best overall. It has the most features for free. While it doesn't give you the MOST versatility to put your passwords where you want them to be, it does have secure servers. You can sleep at night knowing that your passwords are safe and can't be touched by prying eyes. The internet is getting bigger every day and more people are signing up for more websites. Bitwarden should be the place to keep those passwords.
We've even featured the Bitwarden password manager in our video tutorial, How to Create a Zoom Conferencing Account.
Speaking of signing up for more websites, have you considered signing up for our mailing list and the NTG Developer Forum? You can scroll to the top of the page and sign up for our mailing list and you can get immediate updates for when we create a post and you can read the post within your email client. Stay tuned for a full article on keeping your data secure.